Cast Iron 2-Inch Olympic Plate Weight Set for Strength Training, Home & Gym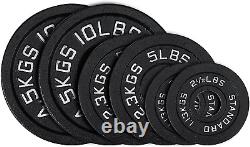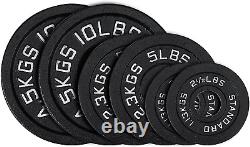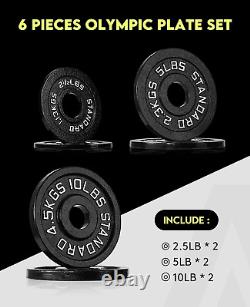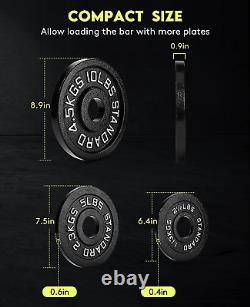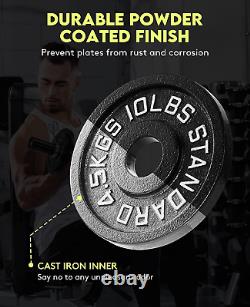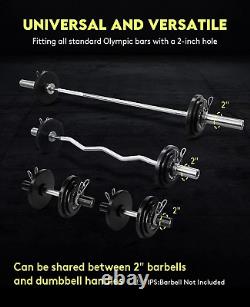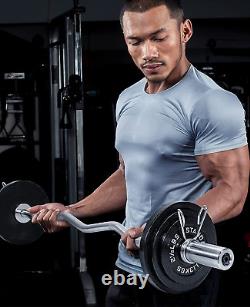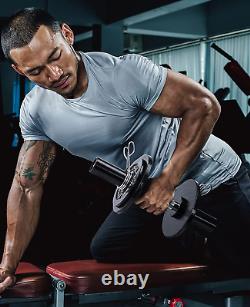 Package include: 2X2.5lb, 2X5lb and 2X10lb. Whether used alone or as a set, providing a variety of options for your workout. All plates feature a durable, black powder coated finish to prevent the plates from rust and corrosion.
These plates are labeled in both LB and KG for easy recognition, which enables you to focus more on your fitness program. These weights have a 2-inch center hole that fits snugly against your olympic bars or 2 dumbbell bars, making barbell squats, bench presses, and other workouts safer. It can be installed on a weight bar to perform muscle strengthening exercises, or can be held by itself for core training, balance training, body flexibility training, etc.
Great For Your Home Gym? The quality materials used in these weights allow it to last a long time in any setting, if you are looking for cost-effective weights for your home gym, they are the right choice.
AboveGenius 2 Olympic Cast Iron Grip Weight Plates Set of 35 LB is the ideal addition for building your home gym. Whether you are using a barbell, or trap bar, these weights can be interchanged to fit your Olympic 2-inch bars. It makes an exceptional addition to your weight lifting routine. Made of solid cast iron for durability and feature a powder coated finish to prevent chipping corrosion, and rust.
Plates have deep edges for easy grip and comfortable workout. Labeled in both LB and KG with its raised white letters for easy recognition. With 2-inch center, Plates fit any Olympic bar with diameter 2. Weight plates can be used to perform muscle strengthening exercises, endurance training, as well as increase both flexibility and balance. This Olympci curl bar is 47 in length, 25 MM in diameter. The bar's loadable sleeve length is 6.5-inches. This Olympci curl bar is 47 in length, 32 MM in diameter. It Weighs 10 pounds and holds. This set includes 2 olympic dumbbell bars and 2 spring collars. The bar is 16 in length with a 25mm handgrip diameter.
This hand weight set comes with 1lb pair, 2lbs pair and 3lbs pair, total 12lbs. The vest comes with 2 weight plates that make the total weight 14lbs/20lbs for every workout.