Hi-Lift X-Treme Cast Iron Jack 48 XT-485 For Up To 5000lbs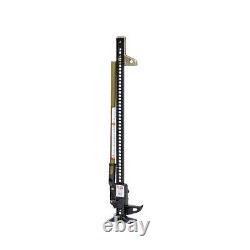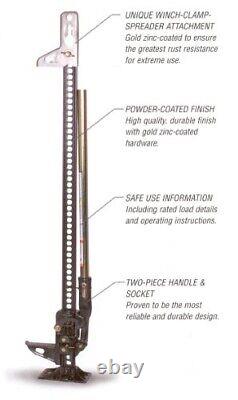 Hi-Lift X-Treme Cast Iron Jack - 48 XT-485 For Up To 5000lbs. Brand Hi-Lift Part Number XT-485 UPC Code 052767048504 Condition Brand New The X-TREME 48" Jack from Hi-Lift is the "top of the line all-cast version made for the serious hi-lift user. This 48 jack is manufactured entirely from cast iron components for ultimate strength and comes in a charcoal metallic powder coat finish that truly provides a unique look, separating it from the standard Hi-Lift. The Hi-Lift X-TREME 48 Jack includes a special top winch-clamp-spreader attachment that replaces the standard clamp clevis and provides the ultimate in multi-use functionality.
This special attachment on the Hi-Lift X-TREME 48 Jack provides the ability to winch, clamp, and spread up to 5,000 Lbs. Features: The Hi-Lift Jack X-TREME jack is our top of the line, all-cast jack that includes many special features Unique gold zinc-coated winch/clamp/spreader attachment Charcoal Metallic powder-coated jack with gold zinc-coated handle and hardware Two piece handle and socket is durable and reliable Safe use information stickers, including rated load details and operating instructions, affixed to handle. Check out our entire store for more great products and deals! We do however make every possible attempt to accurately describe the inventory we sell and stand behind it.
Since 2016, 8TEN Industries has been a leading asset recovery provider supporting national retailers, brands, and manufacturers. Our 60,000 square foot processing and distribution facility located in Cass City, Michigan has allowed us to become industry leader in turning difficult problems for manufacturers into great deals for our customers.