NEW L12DCO3 Deep Cast-Iron Camp Dutch Oven with lid & Legs, 12, 8 Qt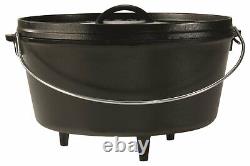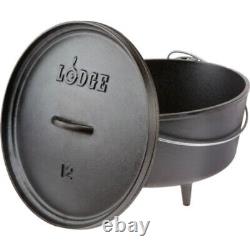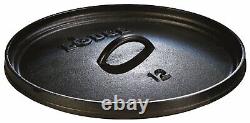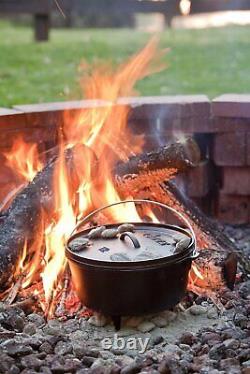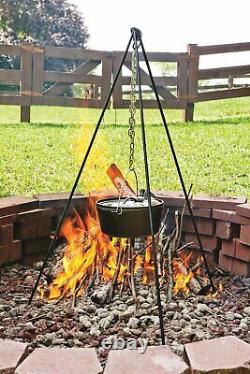 The portable "camp stove" is the pot that does it all. The flanged lid holds hot coals and inverts for use as a griddle. The integral legs allow the oven to sit perfectly over hot coals. The bail handle is for use with a tripod. This Dutch Oven is a multi-functional cookware that works wonders with slow-cooking recipes. It comes with a tight-fitting lid that helps lock in nutrition and flavor. This pre-seasoned Dutch Oven works like a charm right out of the box. Made of cast iron, this Dutch Oven evenly distributes heat from the bottom through the sidewalls. Also, it retains heat better so your delicious meal remains warm for a long time.
Sporting a stylish black color, the cast iron Dutch Oven looks good in most kitchens and it doubles up as an excellent source of nutritional iron. A simple Cast-Iron Dutch Oven, like the one your grandmother used, still ranks as one of the best cooking utensils ever made.
It gives you a nearly non-stick surface, without the possible harmful fumes generated by preheating chemically treated nonstick cookware. Foundry seasoned, ready to use. Legs on bottom allow Dutch Oven to be put in fire. Bail handle for use with tripod. Flip lid to use as griddle.
Unparalleled in heat retention and even heating. Great for campfire or fireplace cooking. From colonial hearth fires, to the campfires of Lewis and Clark, cast iron Camp Dutch Ovens fed our nation's progression from the original 13 colonies to the far reaches of the American West. This Dutch oven is great for ensuring heat retention and even heating during use.
And, since it comes pre-seasoned from it, it offers a natural, easy-release finish that improves with use, letting you cook healthier by limiting the amount of oils needed in your cooking. Tightly controlled metal chemistry and exacting mold tolerances deliver consistent quality for even heating and superior cooking performance.
Hang Over Hearth or Campfire. Heavy gauge wire bale can be used for hanging the oven over the hearth or campfire. Three integral legs allow the oven to be perfectly spaced over hot coals.
Flanged to contain hot coals on top so the oven can be used for baking, stewing, and roasting. The versatile lid can be inverted for use as a griddle. The right tool for searing, sauteing, simmering, braising, baking, roasting, and frying. Cast-Iron is a form of cookware developed over a millennia ago remains as popular today as when it was used to prepare meals hundreds of years ago. Cast Iron is one of only two metals compatible with induction stovetops.
Can Be Used With a Variety of Heat Sources. At home in the oven, on the stove, on the grill or over the campfire. Skillet may be used on various heat sources including gas, electric and induction. Seasoned cast iron can also be used on the grill or open fire and coals for camp cooking. Begin heating cookware on low and slowly bring heat up to medium or medium/high. Always remove cookware from the stovetop after cooking. Seasoned for a natural, easy-release finish that improves with use.
Seasoning is a necessary step in using cast iron cookware. Oil is baked into the pores of the iron at the foundry to prevent rusting and to eventually provide a natural, non-stick cooking surface. Unlike synthetically coated cookware, it is possible to restore the cooking surface of cast iron.
Uses a proprietary soy-based vegetable oil to season our cookware. The oil contains no animal fat or peanut oil. The seasoning is functional application and slight inconsistencies may appear in the seasoning finish.
The inconsistencies will not affect cooking performance. The following use and care instructions for it Seasoned Cast Iron will help your cookware last a lifetime. If you do Nothing Else.. Dry immediately - even before first use. Rub with a light coat of vegetable oil after every wash.
Enough to restore the sheen, without being "sticky". To keep the iron "seasoned" and protected from moisture. Seasoning - It isn't Salt and Pepper. "Seasoning" is vegetable oil baked onto the iron at a high temperature: not a chemical non-stick coating. Seasoning creates the natural, easy-release properties.
The more you cook, the better it gets. Because you create, maintain, and even repair the "seasoning", your cookware can last 100 years or more. Chemical non-stick coating cannot be repaired, limiting lifespan. Cast Iron is right at home on induction, ceramic, electric and gas cooktops, in your oven, on the grill, or even over the campfire. Do not use in the microwave.
(Some induction tops will not work with 2-burner griddles). On glass or ceramic cooktops, lift cookware; never slide it. Our cookware is safe at high temperatures; use metal, wood, or hi-temp silicone utensils.
Some foods may stick to new cookware (especially eggs). Use a little extra oil or butter until you've built up the seasoning. Acidic foods like tomatoes, beans, and certain sauces can damage seasoning, and should be avoided until the seasoning is well-established.
Cast Iron rarely needs to go above a medium heat setting when properly pre-heated. For the times when you do cook at higher temperatures, bring the pan to temperature gradually and add oil to just before adding food to prevent sticking. Our handles get hot; use mitts. Use trivets to protect countertops from hot cookware.
To Soap or not to Soap.. If no soap is too scary, wash with mild soapy water and dry and oil immediately. However, consider that cookware is 400-degrees Fahrenheit in 4 minutes on medium heat and is sterile at 212-degrees Fahrenheit, so soap isn't always necessary.
Dishwashers, strong detergents and metal scouring pads are not recommended, as they remove seasoning. Don't Panic, it's not Broken.
Without protective seasoning iron can rust. It's really easy to fix. Scour the rust, rinse, dry, and rub with a little vegetable oil. If problem persists, you will need to thoroughly remove all rust and follow our re-seasoning instructions (below).
While maintaining the seasoning should keep your Cast Iron and Carbon Steel in good condition, at some point you may need to re-season your cookware. If food sticks to the surface, or you notice a dull, gray color, repeat the seasoning process.
Wash the cookware with hot, soapy water and a stiff brush. (It is okay to use soap this time because you are preparing to re-season the cookware).
Apply a very thin, even coating of MELTED solid vegetable shortening (or cooking oil of your choice) to the cookware inside and out. Too much oil will result in a sticky finish. Place aluminum foil on the bottom rack of the oven (not directly on bottom) to catch any drips. Set oven temperature to 350 - 400 degrees Fahrenheit. Place cookware upside down on the top rack of the oven to prevent pooling.
Bake the cookware for at least one hour. After the hour, turn the oven off and let the cookware cool in the oven.
Store the cookware uncovered, in a dry place when cooled. Gas flames should not extend up the sides of cookware. Match pan size to burner size. Don't use in the microwave.
When deep frying, fill cookware only to 1/3 of capacity. This item is in the category "Collectibles\Kitchen & Home\Cookware\Other Collectible Cookware". The seller is "amto66" and is located in this country: US. This item can be shipped to United States.
Stove Type Compatibility: Camp
Brand: Lodge
Capacity: 8 Quart
Material: Cast Iron
Diameter: 12\
UPC: 075536381251