Le Creuset 5.25Qt Cast Iron Deep Round Dutch Oven Cerise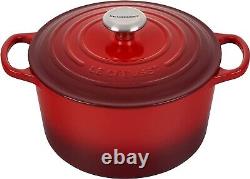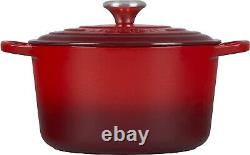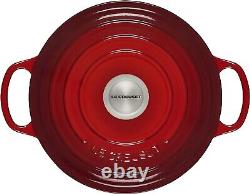 Colorful exterior enamel is shock-resistant to prevent chipping and cracking. Dome-shaped lid locks in flavor by promoting continuous circulation of heat and moisture. Sand-colored interior enamel has a smooth finish that promotes caramelization, prevents sticking and resists stains. Wide loop handles provide a safe and comfortable grip. Stainless steel knob is safe at any oven temperature. Crafted from our legendary cast iron, the Deep Oven has exceptional heat distribution and retention qualities for delicious results every time. The enameled surface minimizes sticking and staining, requires no pre-seasoning, and is easy-to-clean. Cast iron can be used reliably on any heat source, including induction, and with any oven or grill. It has the ability to retain heat efficiently, which allows for use of lower heat settings in stovetop and oven cooking. Compatible with all cooktops; pan is oven-safe up to 500°F, tempered glass lid is oven-safe and broiler-safe up to 425°F.
Easy-to-clean vibrant porcelain enamel requires no seasoning, minimizes sticking, and resists dulling, staining, chipping and cracking. The beauty of the Le Creuset Deep Oven is more than skin deep - crafted from our legendary enameled cast iron, it's a versatile tool for slow-cooking, roasting, baking and frying from stove to oven to table. Dive into the Deep Oven.
Enameled cast iron delivers superior heat distribution and retention to lock in flavor. Tight-fitting lid is specially designed to circulate steam and return moisture back to the food. Light colored smooth interior enamel allows easy monitoring of cooking progress. Ergonomic knobs and handles are designed for easy lifting, even with bulky oven mitts.