Le Creuset Enameled Cast Iron Signature Oval Dutch Oven, 9.5 qt, Yellow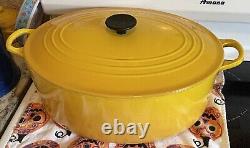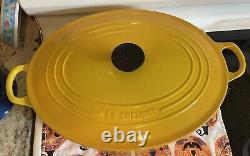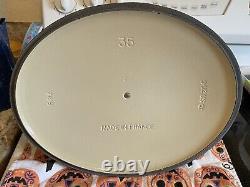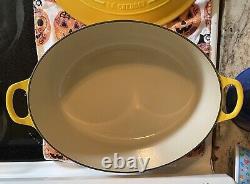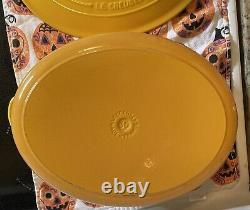 This Le Creuset Signature Oval Dutch Oven is a highly sought-after piece that comes in a bright and sunny yellow color. With a capacity of 9.5 quarts, it can accommodate large batches of stews, soups, and casseroles. The cast iron material ensures even heat distribution and it is compatible with electric, gas, and induction stove tops.
Hardly ever used as you can confirm by the photos. Note white glare spot inside and bottom are from reflection of light. The oval shape and enameled finish add a touch of elegance to the kitchen, making it perfect for serving straight from the stove to the table.
Made in France, this dutch oven is a high-quality piece of cookware that is durable and long-lasting.