Native Val d'Osne style Cast Iron Statue/ Figural Torch Lamps Bronze Vintage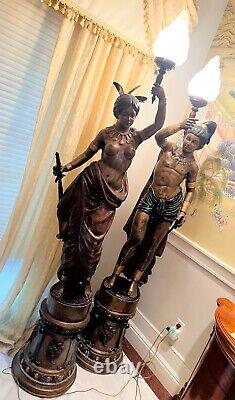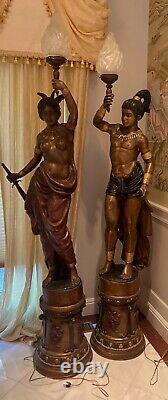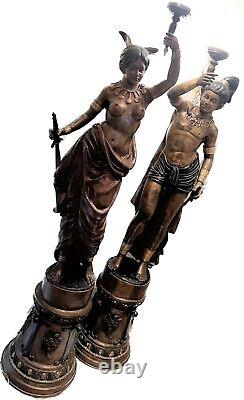 Antique-Val d'Osne Style Cast Iron Native American Indian Statues with Torch Lamps. Enhance your living space with these captivating antique-style cast iron statues, each a testament to the rich heritage of Native American culture. With intricate detailing and a touch of nostalgia, these unique pieces effortlessly blend history and art, making them a perfect addition to your home decor.
Native American Male Indian Statue with Torch Lamp. Immerse yourself in the allure of the past with this remarkable statue.
Crafted with care, the Native American male Indian stands tall, holding a torch that emits a warm and inviting glow. This statue pays homage to the strength and spirit of the indigenous people, and its functional torch lamp design adds a touch of practicality to its artistic charm. Native American Indian Woman Statue with Torch Lamp and Dagger. Embrace the mystique of the Native American culture with this stunning female Indian statue. Adorned with a torch lamp in one hand and a dagger in the other, this sculpture captures the essence of empowerment and resilience.
The torch's soft illumination creates an enchanting ambiance, while the dagger symbolizes the fierce determination of Native American women. These statues are more than just decorative pieces; they also serve as unique lighting solutions. The torch lamps emit a gentle radiance that can transform any room into a cozy and inviting space, perfect for quiet evenings or gatherings with friends and family. Meticulously crafted from cast iron, these statues exude an air of authenticity and durability reminiscent of the past. The intricate details and lifelike features add depth to their character, making them true conversation starters and focal points in any room. Male Statue: [81 H] x [16 W] inches. Female Statue: [84 H] x [15 W] inches.