New Adjustable 52.5 lbs Dumbbell Weight Set, Cast Iron Dumbbell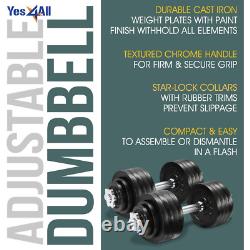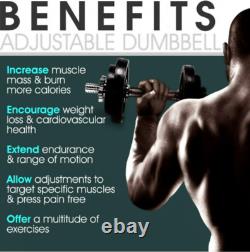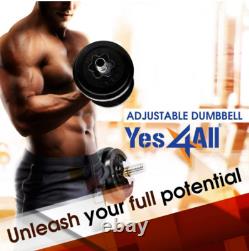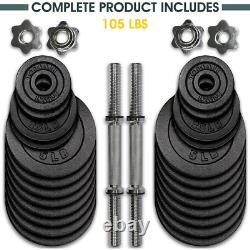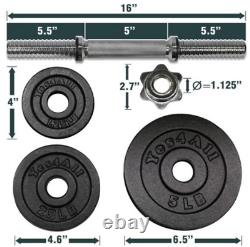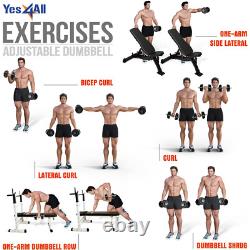 BETTER LIFE WITH YES4ALL ADJUSTABLE DUMBBELLS. Yes4All Adjustable Dumbbells features high performing rust resistant solid cast iron plates, ergonomic textured solid chrome handles, and secure spin-lock star collars. Yes4All Adjustable Dumbbells are easy to use and do not require much storage space, allowing you to vary your daily workout routines with interchangeable weights. You can start from beginning to the next level easily by simply changing the plates to train a single muscle group at a time or different muscle groups simultaneously to develop your strength & muscle gains in arms, shoulders and back. YES4ALL 52.5 LBS ADJUSTABLE DUMBBELL WEIGHT SET, CAST IRON DUMBBELL, SINGLE.
The Adjustable Cast Iron Dumbbell is the perfect addition to any home gym. With its adjustable design, it allows you to easily switch between weights for lifting, making it a versatile option for any workout routine.
Say goodbye to cluttered dumbbell sets and hello to a more efficient workout space. These weights dumbbells are made of durable cast iron, ensuring they will last for years to come. Whether you're a beginner or a seasoned weightlifter, these adjustable dumbbells are a must-have for anyone looking to improve their fitness routine. Weight plate sizes and package content.
52.5lbs (single) set - ONE Handle, TWO Collars, EIGHT 5lbs Plates, TWO 2.5lbs Plates, TWO 1.25lbs Plates. Single dumbbell 52.5 LBS TOTAL: ONE 16"x1.15" handle, EIGHT 5-pound plates, TWO 2.5-pound plates, TWO 1.25-pound plates, TWO collars. Cast iron weight plates fit 1.15-inch standard bar: Accommodate all standard 1.15-inch handles.
Durable cast iron plates covered with black paint finish preventing rust and corrosion for lifetime use. 14-inch diamond knurled chrome handle: Constructed of high-quality, textured chrome handle for secure, firm, and non-slip grip. Star-lock collars with loose-resistant rubber trims and screws: Threaded ends with star-lock collars provide a safe, secure workout & easy weight plate changes. Easy use & storage: Take seconds to assemble and take out. Compact, convenient, and easy to use and store. All-for-one dumbbells eliminate the need for multiple dumbbells in your workout space. Suitable for performing basic toning body workouts, core fitness, strength exercises and heavy leg lifts. 52.5 lb - Single. Assembled Product Dimensions (L x W x H). 15.00 x 12.50 x 4.00 Inches.