Titan Fitness 35 LB Pair Free Weights, Black Rubber Coated Hex Dumbbell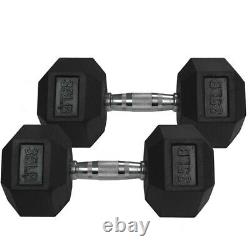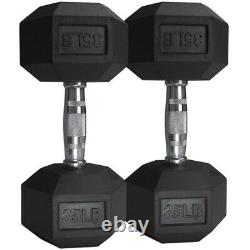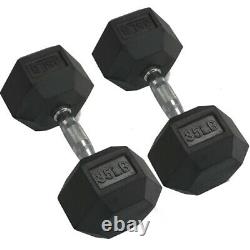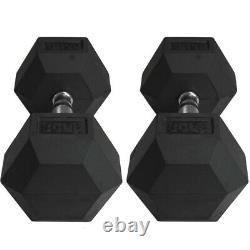 Titan Fitness 35 LB Pair Free Weights, Black Rubber Coated Hex Dumbbell. The Rubber Coated Hex Dumbbells from Titan Fitness® are offered in pairs of 5-pound increments from 5 to 100-pounds.
Additionally, we provide various sets from 5 to 25-pounds, 5 to 50-pounds, and a full set of 5 to 100-pounds. Each dumbbell features a 6-inch ergonomic cast iron chrome-plated handle with knurled textures for a comfortable and firm grip that holds up to use and weather. The durable, black rubber hexagonal heads feature embossed weight increments on two sides for easy identification. These unbranded dumbbells are a great addition to any gym, whether you are just starting or a seasoned lifter. NOTE: This listing is only for the 35-pound set only; some of the product images contain other models for size comparison. KNURLED TEXTURED HANDLE: The medium textured knurling on the ergonomic cast iron chrome handle provides essential grip and security during use, so your hands do not slip while working up a sweat. The weight is embossed on two sides for easy identification. FREE WEIGHTS FOR STRENGTH TRAINING: Dumbbells allow you to target a wide range of muscle groups, giving you a full-body workout. Use these dumbbells to perform curls, rows, deadlifts, flys, kickbacks, and presses.
DURABLE CONSTRUCTION: Each dumbbell features a hexagonal rubber head, molded around cast iron steel, easy-to-grip ergonomic handles, for a comfortable and non-slip grip. The hex-shaped heads prevent them from rolling, making them easier to store. It measures 12-inches long by 5.3-inches wide. The heads are welded to a 6-inch chrome coated handle with a 34 mm diameter hold.
BE TITAN FIT: Titan Fitness is committed to providing our customers with quality fitness products at great prices. Handle Diameter: 34 mm - Finish: Chrome Handle with Black Matte Head - Material: Cast Iron - Total Weight: 70 lb. Titan Great Outdoors Hostage Target 22 3/8" x 12" 27 lb.
Titan Fitness Strap System TITAN Series 42 Rack Depth. TITAN GREAT OUTDOORS Campfire Cooking Griddle 18" x 18" Adjustable Park Grill. Titan Great Outdoors Counter Balance for 1 Round Spit Rod Stainless Steel.
When it comes to our company culture at Titan Brands, we've always followed one simple rule: provide our customers with the absolute highest quality of customer service that we can. Titan Brands got started by building up a hard-earned reputation, based around making sure that each customer will leave satisfied enough with their experience that they'll want to spread the news to friends and family by word of mouth.
We remain fully committed to not losing sight of that reputation, and our team is always willing to accept the challenge of making sure that you not only walk away from your shopping experience satisfied, but that you'll look forward to coming back in the future. The Titan team believes that providing you with an exceptional level of communication and service regarding your order is just as important as providing you with the equipment and supplies you need. Our full-time teams of sales, support, and customer service representatives work in-house and around the clock to ensure that you won't have to worry about any aspects of your order once they're in our hands. Simply place your order, and leave the hard parts to us? We pride ourselves on providing a fully-featured, in-house customer experience from start to finish.
In other words, we don't pass the buck once your order has been placed. That way, if there are any questions or concerns you might have about your order, our team is always a stone's throw away and able to quickly help.
We're always happy to answer any questions that you might have! As part of its evaluation of any claim, Titan may request that additional information be provided and/or may also request an inspection of the Product.
Absent any agreement made in advance of any third party undertaking any work to repair any Product, Titan will not be responsible for any such expenses or costs. Accident, damage, negligence, abuse or misuse.
Improper assembly, installation and/or maintenance (if applicable). A purpose or application in any way different from that for which it was designed. Dispute Resolution by Binding Arbitration.
The parties agree that arbitration shall be conducted pursuant to the provisions of the Federal Arbitration Act, 9 U. And administered under the Commercial Dispute Resolution Procedures established by the American Arbitration Association ("AAA"). The parties agree that should a dispute arise regarding the scope of this arbitration provision, the question of scope shall be delegated to the arbitrator(s) for determination. The arbitration proceedings and results are to remain confidential and are not to be disclosed without the written agreement of all parties, except to the extent necessary to effectuate the decision or award of the arbitrator(s) or as otherwise required by law. Feel confident knowing you can return an item for any reason up to 30 days after it has been delivered!
If you receive a product and need support understanding it's use or need support troubleshooting any issues you are experiencing, please reach out to us to ask questions or have us review videos or photos of your concerns. We will be more than happy to help! Are you afraid of digging deeper into your pockets only to transport your bumper plates or power racks? Titan Fitness has got you covered. We're well known for providing budget-friendly gymnastics, strongman, and training equipment.
All our services are geared at your complete satisfaction. Well, that's not the case with us. We don't include any exceptions or any additional charges.
If you place your order before 11 a. However, this only applies to in-stock items. We deliver most of the products within three days, thanks to our warehouses in various places, like Tennessee, California and Mississippi.
CREATE YOUR PERFECT GYM AT HOME. Titan Fitness allows you to create your perfect gym at home through affordable and highly rated fitness equipment.
Our products are considerably less expensive. In fact, most of them are half of what other companies provide. That said, the equipment's price is one of the critical things that you should take into account when creating the perfect gym for your home. If you have limited resources, you won't have to worry about sacrificing your equipment's quality or features. We'll ensure that you have it all. Titan Fitness is undoubtedly a step ahead in so many aspects. Our home gym services have a great combination of quality products and features at an economical price.
Whether you want to add new equipment for your gym at home or you want to turn it into a fitness center, we can help. The item "Titan Fitness 35 LB Pair Free Weights, Black Rubber Coated Hex Dumbbell" is in sale since Wednesday, June 9, 2021. This item is in the category "Sporting Goods\Fitness, Running & Yoga\Strength Training\Dumbbells". The seller is "titan_fitness" and is located in Collierville, Tennessee.
This item can be shipped to United States.
MPN: (2)HEXDBB_35
Brand: Titan Fitness
UPC: 737069524191
SKU: 421036
Type: Dumbbell